Sue the Archivist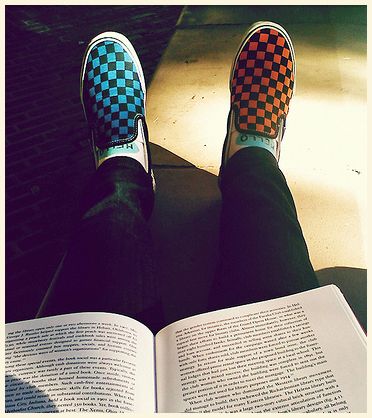 1. Can you tell us about your current position?
I am the archivist for an institute located at a private, liberal arts college in southern California. I am a lone arranger and since my institute has very little staff, I wear many hats. On top of my usual archive tasks of creating archive policies, archival processing, cataloging and managing the DVD library, reference work, etc., I also do graphic design, videography, and video editing.
2. How did you get into librarianship?
When I was a film major in college, I always sat through the end credits to see the various roles involved in production. At the end of one of the Harry Potter movies, I noticed a credit for the archivist. I had no idea what an archivist was then, but I was intrigued after reading the career description. Fortunately, I had an awesome college advisor who connected me to the university archivist to do an internship, so I could observe what it's like to work in archives. I was amazed by the collections, the process of organizing and preserving them, and the chance to work with historic materials. By the end of that internship, I made a decision to apply to library school.
3. What training and education did you have to prepare for your career?
A lot of my technical training was developed earlier in high school and refined in college, so I was prepared to use audiovisual equipment and editing programs at work. I received my MLIS education at
UCLA
where I formally learned archival principles and preservation basics. To get a diverse experience while I still could as a library student, I also completed several archive internships, volunteer hours, and archive/library jobs. At one point, I juggled two internships, one class, and a part-time job while commuting to and from home 100 miles roundtrip, five days a week. However, I don't regret it one bit! I seized all opportunities that were offered, gained a lot of new archival and life skills, networked, and came out a stronger archivist and individual.
4. What are your favorite and least favorite aspects of the field?
My favorite aspect of the field is when I get to do archival processing because I love hands-on work. I get to know the collections better, I get to uncover some treasures, I get to pull out my fancy white gloves when handling photographs.
My least favorite aspect of the field might be the general public's lack of awareness what archivists do. I usually get blank stares when I tell people I'm an archivist. But it's okay! I've learned that it's a good occasion to teach them what archivists are, what we do, and advocate the importance of archivists and archives.
5. What is your advice for readers interested in librarianship/archiving?
Before applying to library school, try to get a feel of what it's like working in an archive/library. If you're in college, it doesn't hurt to ask the university archivist if you could job shadow, volunteer, or do an internship. If you're already in the work force, try to volunteer at your local historical society or history room at your local public library. See if it will be worth taking out school loans for the MLIS degree, if you like the archive/library environment, the archivists/librarians you'll be working with, the researchers/patrons you'll be helping, the materials, etc. Don't blindly apply to library school; take time to research the field.
Sue blogs at 

arkvst.tumblr.com

, where she shares links about archives and libraries, posts her photography, and comments about movies.