Prep, by Curtis Sittenfeld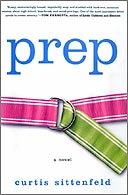 I read this one to take a break from YA and find out what all the fuss was about after reading whatifiwanttobeapurse's tagline. Let me just say, it was both refreshing and disheartening to turn back to adult fiction after several YA picks in a row.
This is my third boarding school book this fall (after Anna and the French Kiss and The Name of the Star), but it's totally different. Lee Fiora is no Anna or even Rory, though I'd expected she would be, judging from the cheerful cover image and the claim on the front blurb that the book is funny.
Well, it is, but I maybe should have checked out the LC CIP, which lists one subject heading as "Self-destructive behavior." Or the blurbs that call Prep full of "unsugared truths about adolescence, alienation, and the sociology of privilege." Sheesh.
Lee is a scholarship student at an illustrious New England boarding school, and she never forgets it. The book is a string of episodes almost more like a memoir, but with excruciating detail and analysis. Sittenfeld's lovely prose was an invigorating break from the more plot-driven stuff I've been reading, but it was also harder work. Sittenfeld isn't concerned with making you like Lee the way you might Rory or Anna; instead, you are her, at least if you were ever a timid, self-conscious teen girl. The flashes of recognition were many, and mainly uncomfortable. For instance:
"Stowed behind the back seat were my parents' suitcases, two large, light blue, fake leather squares. When Joseph and I had been younger, we'd made nests out of these suitcases, I remembered suddenly, padding their interiors with blankets, then climbing in and pulling the flaps over us like roofs that we propped up with our heads. The memory filled me with an odd, preemptive exhaustion — everything about my parents, even their luggage, reminded me of something, or made me feel a certain way."
The novel is narrated by an older, wiser Lee, and she sometimes feels about her younger self the way I did: that sort of dread of too much honesty you get watching Freaks & Geeks, or one of the more uncomfortable Wonder Years. You were like this, and at the time, it was both better and worse than looking back on it now is. There's a rawness to this book and those years that is difficult to bear; as Lee concludes upon graduating, "The world was so big! The sharpness of that knowledge went away almost as soon as I'd boarded the T, but it has returned over the years, and even now sometimes — I am older, and my life is very different — I can feel again how amazed I was that morning."
2 Notes/ Hide
kiwitini likes this
whatifiwanttobeapurse likes this
thecardiganlibrarian posted this